Sea Reading Room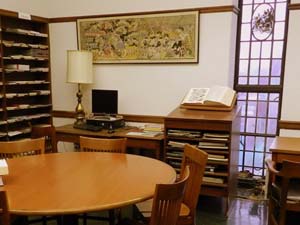 The Southeast Asia Reading Room and adjacent seminar room are located on the second floor of Sterling Memorial Library, room 214. 
Following relocation and renovation in the fall of 2013, the new reading room contains comfortable seating and a round study table. The reading room houses the current periodical collection of Southeast Asian studies journals. An interior room contains core reference collections of printed works including bibliographies, atlases, dictionaries, and an expandable seminar table which seats up to 8 people, with a flat screen monitor on the wall for presentations and classroom use. 
The Southeast Asia Studies Collection maintains print and online archives of periodicals and newspapers from all parts of Southeast Asia.