Ramayana: A Tale of Trees and Wood
Ramayana: A Tale of Trees and Wood
---
Sponsored by Council on Southeast Asia Studies at Yale and the Yale Institute of Sacred Music
Free admission and open to audiences of all ages
Thursday, April 20 at 7 p.m.
Cabaret Theater, Grace Hopper College (Elm Street Gate Entrance)
189 Elm Street, New Haven, CT
Please RSVP for the event here  
Ramayana: A Tale of Trees and Wood, a post-humanist retelling of the epic, hybridizing tholpavakoothu and wayang kulit shadow puppetry from Kerala, India and Java, Indonesia, as performed by UConn Puppet Arts under the direction of Matthew Isaac Cohen and Rahul Koonathara.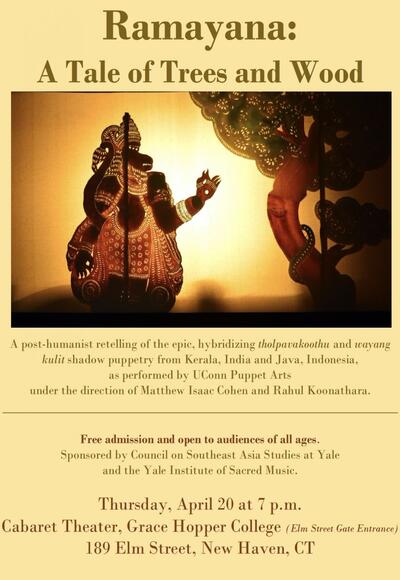 Ramayana is one of the main story sources for theatre and dance throughout South and Southeast Asia. This epic, which has been told and re-told in countless variants, normally centers on the relationship between Rama, a prince of Ayodya and incarnation of the god Vishnu, and Sita, a princess of Manthili. Rama wins Sita's hand in a contest but due to a vow made by Rama's father in a moment of weakness, the couple and Rama's brother Lakshmana are forced into a forest exile. Sita is kidnapped by the monstrous, ten-headed Ravana and Rama allies himself with a monkey king named Sugriva. After a momentous war pitting Sugriva's monkey army against the ogre army of Alengka, Rama rescues Sita and Rama is at last crowned king of Alengka. Sometimes tellings end with this coronation. But often, an epilogue is appended in which Sita is forced to undergo an ordeal by fire to demonstrate that she remained pure while captive in Alengka; Sita's decision to leave Rama to raise their two boys alone; and Sita's return to the earth. Contemporary tellings of the Ramayana, in fact, often center on Sita as the epic's true protagonist, and question Rama's heroism and valor.
Tholpavakoothu is a ritual form of shadow puppetry performed annually in temples of the Malabari coast by an extended family of puppeteers known as pulavars. Puppets are made from filigreed animal hide, which cast their shadows on a white screen. Verses from the 12th-century Tamil version of the Ramayana, known as the Kamba Ramayanam, are chanted in the original Tamil and then glossed into the local language of Malayalam and interpreted and debated by the puppeteers. A comical character, the Vidushaka, clowns and sings folk songs. 
Wayang kulit purwa is a popular art form performed in the villages and palaces of Java, often in conjunction with village celebrations or rites of passage such as weddings and circumcisions. A solo puppeteer, known as the dhalang, is normally accompanied by a large gamelan orchestra. Like in Tholpavakoothu, puppets are made from filigreed animal hide, which cast their shadows on a white screen. Stories are set by tradition but dialogue is extemporized in performance. The puppeteer is also responsible for singing "mood songs" (suluk), which are frequently derived from Old Javanese translations of Sanskrit literature. Comical interludes featuring punakawan (clown-servants) intersperse the main action of the plays.
---
See CSEAS Current Calendar of Events and Activities
Talks & events added and updated throughout Semester
Contact seas@yale.edu for details