The Politics of 'Good Reading': Libraries and the Public in Late Colonial Vietnam
The Politics of 'Good Reading': Libraries and the Public in Late Colonial Vietnam
---
Cindy Nguyen, Postdoctoral Fellow, Brown University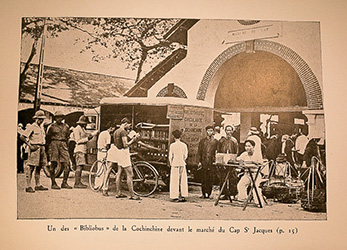 This talk examines the role of state-sponsored libraries within the landscape of print culture and reading public in late colonial Vietnam. I consider how library administrators and government officials defined 'good reading' as didactic, politically safe, and vulgarizing reading matter. Through the specific project of the Cochinchina Library bibliobus or xe sách [book wagon],* I reveal how colonial print control and book distribution drew inspiration from the Dutch East Indies Balai Pustaka and American libraries and publishing initiatives. This talk contributes two major interventions in the history of libraries and colonialism in Vietnam. Firstly, it situates the library within the landscape of print culture and peripheries of colonial control, and secondly it points to the administrative exchanges between imperial projects and international library sciences. This talk is part of my book manuscript Misreading: Social Life of Libraries and Colonial Control in Vietnam, 1865-1958. I examine the mechanics, discourse, and everyday practice of the library to fulfill its role as an official governmental institution, resource of public education, and cultural space for the practice of collective responsibility, urban civility, and public reading. I embed libraries within the multilayered landscape of print control—the politics of production, dissemination, and preservation of print matter. I follow the dynamic debates on print control among French colonial and post-colonial government administrators, librarians, archivists, translators, publishers, and readers. These diverse actors investigated the content, language, and influence of 'good reading' and initiated projects to disseminate reading matter through translation, publishing, and libraries. 
*(click on photo above to enlarge image)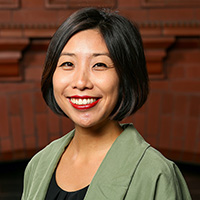 Cindy A. Nguyen is a Postdoctoral Fellow in International Humanities in the Department of History and the Cogut Institute for the Humanities. She earned her Ph.D. in History at the University of California, Berkeley (2019). She specializes in the history of Vietnam, Southeast Asia print culture, and libraries. Her book manuscript, "Misreading: The Social Life of Libraries and Colonial Control in Vietnam, 1865–1958" examines the cultural and political history of libraries in Hanoi and Saigon from the French colonial period through to the decolonization of libraries. She examines the institution of the libraries through the lens of cultural imperialism, national legitimacy, and social practices of public reading. She reveals how the library reading room became a space of urban sociability, literary cosmopolitanism, and self-directed education. She considers how 'builders and users' (librarians, readers, technicians, administrators) conceptualize libraries, the public, and literacy in 20th-century Vietnam. In 2019–2020, she taught Southeast Asian history courses titled "Contested Histories of Colonial Indochina" and "Print and Power in Thailand, Indonesia, and Vietnam." She developed a teaching module on visual analysis and virtual reality in her Indochina course with the international digital humanities project Virtual Angkor and the Multimedia Lab at Brown. With funding from the Brown Arts Initiative, she is currently working on a poetic documentary film on the language of Vietnamese refugee remembrance and history.
Wednesday, April 7, 2021
Seminar Via Zoom
---
See CSEAS Current Calendar of Events and Activities
---
*B.Y.O. lunches welcome at all noon seminars