"Political Violence in Southeast Asia Since 1945: Case Studies from Six Countries"
"Political Violence in Southeast Asia Since 1945: Case Studies from Six Countries"
---
Eve Zucker, Lecturer, Yale University
Ben Kiernan, A. Whitney Griswold Professor of History, Yale University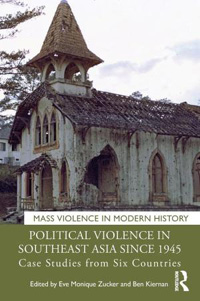 This book examines postwar waves of political violence that affected six Southeast Asian countries - Indonesia, Burma/Myanmar, Cambodia, Thailand, the Philippines, and Vietnam - from the wars of independence in the mid-twentieth century to the recent Rohingya genocide.
Featuring cases not previously explored, and offering fresh insights into more familiar cases, the chapters cover a range of topics including the technologies of violence, the politics of fear, inclusion and exclusion, justice and ethics, repetitions of mass violence events, impunity, law, ethnic and racial killings, crimes against humanity, and genocide. The book delves into the violence that has reverberated across the region spurred by local and global politics and ideologies, through the examination of such themes as identity ascription and formation, existential and ontological questions, collective memories of violence, and social and political transformation. In our current era of global social and political transition, the volume's case studies provide an opportunity to consider potential repercussions and outcomes of various political and ideological positionings and policies.
Enhancing our understanding of the technologies, techniques, motives, causes, consequences, and connections between violent episodes in the Southeast Asian cases, the book raises key questions for the study of mass violence worldwide.
Published by Routledge
---
Eve Monique Zucker is a part-time lecturer in Anthropology and a member of the steering committee for the Genocide Studies Program at Yale University. Her research focuses on the social, moral, and digital dimensions of remembrance and recovery after mass atrocities in Southeast Asia and beyond. Her books include Forest of Struggle: Moralities of Remembrance in Upland Cambodia; Mass Violence and Memory in the Digital Age; and Coexistence in the Aftermath of Mass Violence.
Ben Kiernan is the A. Whitney Griswold Professor of History and founding Director (1994–2015) of the Genocide Studies Program at Yale University, US. His books include How Pol Pot Came to Power; The Pol Pot Regime; Blood and Soil; Genocide and Resistance in Southeast Asia; and Việt Nam.
---
Wednesday, November 3, 2021
12:00 PM
---
See CSEAS Current Calendar of Events and Activities
---