"Nuoc 2030" - Q & A with Director/Filmmaker
"Nuoc 2030" - Q & A with Director/Filmmaker
Q&A Thursday March 18, 2021 - 8:00 PM - 9:00 PM
Online via Zoom
---
SYNOPSIS:
(Vietnamese with English subtitles - 98 minutes)
Set in the vast and beautiful coastal regions of Southern Vietnam, NUOC (Water) is a mixed genre of mystery and romance set in the near future when water levels have risen due to global climate change. South Vietnam is one of the regions most affected by climate change, which causes as much as half the farmland to be swallowed by water. To subsist, people have to live on houseboats and rely solely on fishing with a depleting supply. Huge multinational conglomerates compete to build floating farms equipped with desalination and solar power plants floating along the coastline to produce the needed vegetables that have become highly priced commodities. The story follows a young woman in her journey to find out the truth about the murder of her husband whom she suspects has been killed by the people of a floating farm. In the process, she discovers the secret of that floating farm; it employs genetic engineering technology to cultivate vegetables that can be grown using salt water thus can be produced much cheaper. However, this untested technology can have dangerous health consequences for the consumers that the farm wants to keep as a secret. It turns out that the chief scientist of the floating farm in question; the main suspect of her husband's death was her ex-lover. She ends up finding out different versions of the "truth" about her husband's death and has to make a dramatic decision without knowing the absolute truth.
Selected as the Opening Night Film the Panorama section of the 2014 Berlin International Film Festival, and was awarded the 2013 Tribeca Sloan Filmmaker Award.
---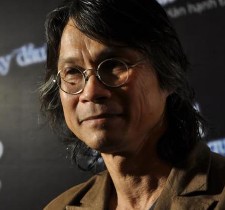 Nghiem-Minh Nguyen-Vo was born in 1956 in Saigon, Vietnam and grew up in a small town in Vietnam during the war. To escape the atrocities all around, he escaped into the only one-room movie theater in town. He immigrated to France as a young man studying in Poitiers (B.S. in Aeronautical Engineering, Université de Poitiers) and then continued in the US and became a physicist (Ph.D., UCLA). He was fascinated with the interaction between sound and light that became his main research subject for many years. His passion to follow his ideas from many different perspectives brought him back to cinema and UCLA where he completed the certificate program in screenwriting and directing in 1998. His directorial debut, Buffalo Boy, was Vietnam's entry to the 2006 Academy Awards and was an official selection in over 50 festivals, including Toronto, Rotterdam, Palm Springs, Locarno, Chicago, and Busan. It also screened at MoMA as part of their Global Lens series. It won 15 awards around the world including the New Directors Silver Hugo Award at the Chicago International Film Festival, the FIPRESCI Jury Award at the Palm Springs International Film Festival, and Youth Jury Award at the Locarno International Film Festival. He is currently based in Los Angeles.**See "On the Theme of Waters in Southeast Asia" for a series of complementary events
---
See CSEAS Current Calendar of Events and Activities
---
*B.Y.O. lunches welcome at all noon seminars