Monograph #63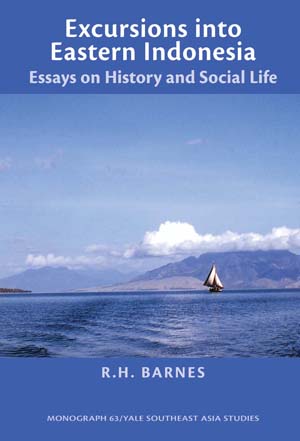 For over forty years R.H. Barnes has explored what it is possible to know of the history of the region of eastern Indonesia stretching from Flores to Alor, where there is little in the way of a formal record of the past. During that period he has accumulated over five years living in the area—often in the houses of local people—taking part in the daily lives and community affairs of many friends and acquaintances. He has traveled widely in these islands, and has conducted extended research in three separate sites on the islands of Lembata and Adonara. He has also consulted archives in The Netherlands and Indonesia, and used the resources of many libraries. The research resulted in three books and many articles. Here he presents a collection of articles that look at the past and representations of the past from a variety of perspectives. Above all, they attempt to open up the past of what once were nearly completely illiterate peoples. They contribute to a developing historiography of eastern Indonesia, and exemplify a continuing rapprochement of the disciplines of history and social anthropology.
R.H. Barnes is retired from a Professorship in social anthropology at the University of Oxford, where he taught over thirty-four years. He is now Emeritus Fellow of St. Antony's College, Oxford. He is the author of Kédang: a study of the collective thought of an eastern Indonesian people (1974), Sea Hunters of Indonesia: Fishers and Weavers of Lamalera (1996) and, with Ursula Samely, A Dictionary of the Kedang Language: Kedang-Indonesian-English (2013).
---
398pp: Paper $28.00; ISBN 978-0-9850429-0-5 
*Cloth $39.00; ISBN 978-0-9850429-1-2
See Yale Southeast Asia Studies Monographs
for Ordering Information and full list of other available books.
*Cloth bindings are library serial version: no jacket, no cover photo; blank with foil stamp on spine. Paperback includes cover design & photo
Yale Southeast Asia Studies is a non-profit publishing entity at Yale University.