Monograph #56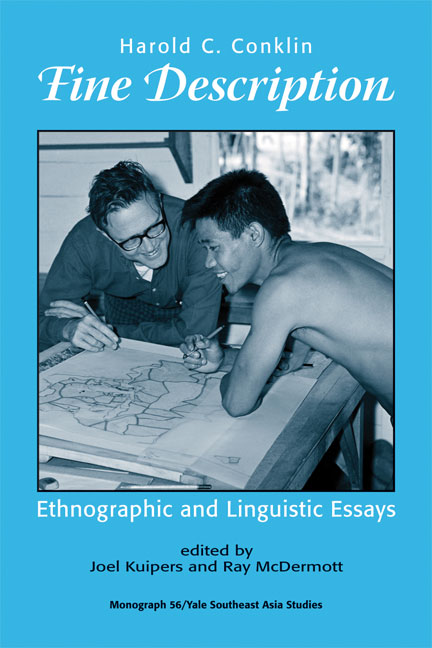 Yale Southeast Asia Studies Monograph #56
FINE DESCRIPTION: Ethnographic and Linguistic Essays
by Harold C. Conklin
Edited by Joel Kuipers and Ray McDermott
 
Across decades of fieldwork in the Philippines, Harold C. Conklin wrote classic papers for anthropologists working everywhere. This book gathers a significant sample of his often-cited, but widely dispersed publications on fieldwork and analytic methods applied to a wide range of topics. The writings are as startlingly impressive now as when first published. Driven by a desire to record, represent, and preserve how the Hanunóo and Ifugao worked, talked, thought, and played, Conklin presents the details of agricultural and botanical knowledge, spatial orientation, kinship, verbal play, poetry, and music. His findings subtly address contemporary debates and brilliantly display the respect, rigor, and responsibility with which ethnographers should study cultural phenomena.
Reviewers' Comments: "It has long been established opinion that (Conklin) is one of the very best fieldworkers in the business…he does it the way it ought to be done….His Philippine research…is for his peers, and would be peers, as daunting as it is exemplary. " - Clifford Geertz
"[For ethnographic theory and method] Conklin managed to anticipate just about every issue that has emerged in the last thirty years."- Myrdene Anderson
 
Includes Foreward, Introduction and Commentary by Charles O. Frake, Joel Kuipers, Ray McDermott, Clifford Geertz, Myrdene Anderson, Harold Scheffler, Eugene Hunn, Dell Hymes, Nicole Revel, and Michael Dove.
Paperback $27.00 (ISBN 978-0-938692-85-0);
*Cloth $37.00 (ISBN 978-0-938692-84-3)