Gold in Early Southeast Asia
Gold in Early Southeast Asia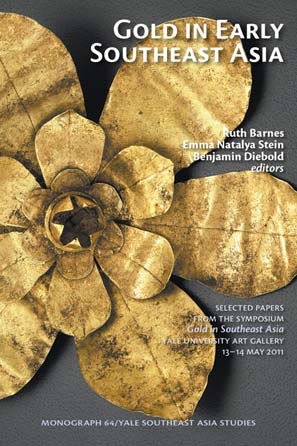 Yale Southeast Asia Studies Monograph #64
Selected Papers from the Symposium, Gold in Southeast Asia, Yale University Art Gallery, May 13-14, 2011
With the publication of John Miksic's book Old Javanese Gold twenty-five years ago, Southeast Asian gold became a new field of study. The Hunter and Valerie Thompson collection that was its focus is now at the Yale University Art Gallery, where it is one of the foundations of the recently established Department of Indo-Pacific Art.
In 2011 the Gallery displayed key items of the collection and hosted an international symposium to celebrate the donation. This volume is the outcome of that occasion. The contributions represent a range of disciplines, from archaeology to art history and epigraphy. New approaches to analysis are offered and enrich our understanding of the role precious metal once held in Southeast Asian cultures. Recently discovered archaeological sites are discussed. Several of the authors also address the problems of looting and forgery when objects become desirable collectors' items. The collection of essays marks a new stage in research on precious metals in Southeast Asia.
Edited by: Ruth Barnes, Emma Natalya Stein and Benjamin Diebold
Contributors: Ruth Barnes, A.T.N. Bennett, Michael Armand P. Canilao, Jan Wisseman Christie, Ian C. Glover, Helen Ibbitson Jessup, Pauline Lunsingh Scheurleer, Andreas Reinecke
Cover design by MetaGlyfix
---
289pp; 122 b/w illustrations
>Paper $29.00; ISBN 978-0-9850429-2-9
 *Cloth $40.00; ISBN 978-0-9850429-3-6
See Yale Southeast Asia Studies Monographs
for Ordering Information and full list of other available books.
*Cloth bindings are library serial version: no jacket, no cover photo; blank with foil stamp on spine. Paperback includes cover design & photo
Yale Southeast Asia Studies is a non-profit publishing entity at Yale University.