Yale CSEAS Faculty News
---

Sunil Amrith was awarded the 2022 Dr. A.H. Heineken Prize for History in recognition of his examination of the historical origins of inequality within and between countries and the impact of climate change on global socioeconomic conditions.  Amrith, who is the Renu and Anand Dhawan Professor of History,  studies the history of South and Southeast Asia. He is interested in the transnational connections between these two regions, with a focus mainly on the 19th and 20th centuries. Among other topics, he has studied the large-scale migration around the Bay of Bengal and the circulation of cultural, religious, and political ideas that followed. He is also interested in the ecological processes that have connected South and Southeast Asia.  Read more on Yale News
---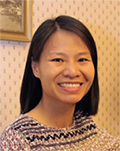 Quan Tran is the 2022 winner of the Richard H. Brodhead '68 Prize, awarded for teaching excellence by non-ladder faculty. This prize should come as no surprise to those who know Quan or have heard all the rave reviews from students about her inspiring teaching. I am grateful for the amazing work Quan has been doing to engage Southeast Asian Studies with the vibrant field of Critical Refugee Studies and Yale's program in Ethnicity, Race and Migration. The inspiration she gives students for focusing on Southeast Asian diaspora issues has brought our Council right to the center of important conversations at Yale. You can read more about her prize, and the full prize citation at this link from Yale News
---

Michael Dove is the 2022 recipient of the Graduate Mentor Award from the Graduate School of Arts and Sciences. For those of you who know Michael, and all that he has done for graduate students over the years, I think you will agree with me that this is a truly well-deserved award. It is difficult to overstate how important Michael's support has been to scholarship on Southeast Asia, Environmental anthropology, and much more. Michael's one-on-one mentoring and justifiably famous "Dove Lab" is well-known among students, and his combination of intellectual and rigor care for students provides a model for us all to aspire to. For those who missed it, the announcement from Dean Cooley is available here >>. 
(See also this profile of his recent work  at Yale News).
---
Erik Harms, Council on Southeast Asia Studies Chair (2019-present), was awarded the 2021 Lex Hixon '63 Prize for teaching excellence in the social sciences. 
The citation for Professor Harms states:"Erik Harms, associate professor of anthropology, your students speak highly of your compassion and support of their learning, where students come 'prepared and excited' for each class session. They appreciate the trust you have in them to engage in the readings and course material without the need for busywork, and the supportive environment you create in the classroom… .Your care for your students is genuine and their excitement for your courses is contagious."  Read more here >>
---

Oral History Project Celebrates Famed Political Scientist James C. Scott and the Yale Agrarian Studies Program:
Since its inception in 1953, the Oral History Center of The Bancroft Library at UC Berkeley has been responsible for compiling one of the largest and most widely used oral history collections in the country. The interviewees within this vast collection include many of the nation's high-profile citizens, ranging from senators and governors to artists, actors, and industrialists. And standing among this distinguished list is an equally impressive group of scholars… . . Thus, a project on the famed Yale political scientist, James C. Scott, and his equally renowned Agrarian Studies Program, stands as a fitting addition to the Bancroft collection. The "Yale Agrarian Studies Oral History Project," is a two-part series featuring the life history of James C. Scott, and shorter interviews with over a dozen affiliates of the Yale Agrarian Studies Program.  Read more and find links to the video links, interviews and transcripts here >>
(See also 2022 interview with Professor Scott on the origins of the Independent Journal of Burmese Scholarship (IJBS) here >>)
---
See CSEAS PEOPLE
---