UPDATE FROM THE LIBRARIAN: COVID-19 LIBRARY CLOSURE AND EXPANSION OF E-RECOURCES
UPDATE FROM THE LIBRARIAN: COVID-19 LIBRARY CLOSURE AND EXPANSION OF E-RECOURCES
March 18, 2020
As you all know, Yale Libraries are currently closed to all faculty and students, and most staff are working remotely, including your librarian for South and Southeast Asian Studies (That's me! I'm the Librarian!). You can read more about the Library's response and decisions here: https://web.library.yale.edu/news/2020/03/covid-19-library-update
While physical collections, including archival materials and the stacks, are closed and not available for check out or use, e-resources are still available, and being expanded. The Library is focusing first on buying e-versions of all textbooks currently listed in Canvas Reserves. Additionally, we are buying large ebook packages to expand our holdings overall, in the hopes of closing at least some of the gaps in coverage the new policies will cause. Chat services have been more than doubled to continue to offer fast and responsive assistance to your general reference questions. Connect with them here: https://ask.library.yale.edu/index.php
Unfortunately, scanning and copying services are also no longer available, in an effort to protect the health of our staff and patrons. 
In addition to library-wide efforts, subject librarians (That's me, again!) are working hard to continue offering the kind of high-quality support and references that you are used too, albeit in a slightly modified form. 
For my part, I am adding dozens of online resources to my library guides- links below- to include a more comprehensive list of electronic archives and databases, as well as additional open-access materials, including some journals, newspapers, and other periodicals. I am also cross-listing with other area studies guides to more effectively support interregional/transregional research. 
As you weather these changes and adapt to online courses, please do not hesitate to contact me for questions about access to library materials, how to request e-resources, and the like. I am also available over email and Zoom for research consultations. 
Library Guides:
Email me at brandon.miliate@yale.edu
---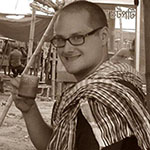 Brandon J. Miliate, PhD is the Librarian for South and Southeast Asian Studies at Yale University. When he is not exploring and building the Southeast Asia Collection, he can found at home playing the harp, painting, or taking on yet another language (Vietnamese sounds nice!).
Learn more about the Southeast Asia Collection and your new Librarian.
Also, check out Brandon's new LibGuide, Methods and Materials for South/Southeast Asian Studies for a guided introduction to our collection and ways you might consider using these materials in your own research.