LIVING IN A SACRED COSMOS
LIVING IN A SACRED COSMOS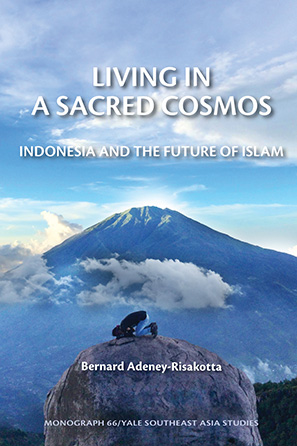 Yale Southeast Asia Studies Monograph #66
LIVING IN A SACRED COSMOS:
Indonesia and the Future of Islam
by Bernard Adeney-Risakotta
The future of Islam lies in Asia. Is there hope for peace and justice between Islam and the West?  An answer may lie in the ancient, unique civilization of Indonesia, where modern, religious people still live in a sacred cosmos. Indonesia is experiencing an Islamic renaissance: a flowering of religious ideas, art, literature, architecture, institutions, and intellectual creativity, stimulated by civil freedoms, democracy, education, and prosperity. This community is more religiously diverse than it has ever been, even though it is threatened by growing Islamic radicalism. What do Muslims think about democracy, scientific rationality, and equal human rights for all, especially for women and non-Muslims? How do Muslims respond to the global environmental crisis? This book addresses these questions through the lens of empirical research on the views of people in Indonesia, the largest Muslim country in the world.
Reviewers' comments: "Here is a prophetic, erudite, surprising voice from Islam's largest country and most promising democracy. A philosopher and social scientist, Professor Adeney intimately understands the challenges, strengths and failings of this experiment in democracy. Indonesia accommodates astonishing religious, ethnic, and political diversity. Professor Adeney shows how Indonesian informants negotiate between seemingly incompatible languages of scientific rationality, religious conviction, and experience of an unseen world, and the absurdity of expecting a 'sacred cosmos' to disappear into modern rationalism or religious dogmatism. Indonesians have much to teach the world about the civilized and dynamic coexistence of multiple world views both in ourselves and in complex societies." -Anthony Reid, Professor of History, Australian National University
"… The irenic participant observer approach evokes sympathy. It is what makes the book a pleasure to read. It offers a heart-warming corrective to the alarming narrative of religious militancy that now dominates foreign news reporting on the country (and not a little scholarly work as well). It reciprocates the welcoming acceptance that this open society radiates towards the world… (Although) 'going native', as this book has done, involves risks as well." - Gerry Van Klinken (Bijdragen 2019)
"… Adeney writes about religious individual experiences not about universal or local Muslim development… He gives wonderful interpretations of the creative sensitivity for religious ideas and emotions.  He avoids the doctrines and formal organizations.  This makes the book sometimes a learned annotated personal diary.  It is its weakness, also its strength."  - Karel Steenbrink (Relindonesia2 2019)
Bernard Adeney-Risakotta was born in China of British and American parents. He was founding director of the Indonesian Consortium for Religious Studies (ICRS) at Universitas Gadjah Mada in Yogyakarta. He studied in Wisconsin, London, and Berkeley, where he taught for nine years before moving to Indonesia in 1991. Among his many publications is Strange Virtues: Ethics in a Multicultural World.
---
406pp
>Paper $28.00; ISBN 978-0-9850429-6-7
 *Cloth $39.00; ISBN 978-0-9850429-7-4
>Kindle $18.00; Amazon.com ASIN: B07P9CC419
---
See Yale Southeast Asia Studies Monographs
for Ordering information and listings of other available books.
Paperback and Ebook available in the US at Amazon.com,
(and in Europe, Japan and Canada on Amazon.uk, .de, .fr, .es, .it, .jp, .ca);
Ebook also available on Amazon.nl,.br, .mx, .au, .in)
*Cloth bindings are library serial version: no jacket, no cover photo; blank with foil stamp on spine. Paperback includes cover design & photo - order cloth hardcover book directly from publisher.
Yale Southeast Asia Studies is a non-profit publishing entity at Yale University.