Reporting during the world's longest internet shutdown and the post-military coup in Burma
Reporting during the world's longest internet shutdown and the post-military coup in Burma
---
Kyaw Hsan Hlaing , Independent Journalist
For over 70 years, Burma has been struggling between Autocracy and Democracy and fighting in both non-violent and violent ways for democracy, equality, and greater autonomy for the ethnic states. After a recent period of hopefulness, the military overthrew Aung San Su Kyi's NLD government on 1st February 2021. Since the coup, the country has been in political turmoil. Nationwide protests broke out, followed by a deadly crackdown by the junta which killed over 1700 people.
In this event, journalist Kyaw Hsan Hlaing will share his first hand experiences in reporting and human rights activism during the last two years of NLD's term, gained while covering the civil war between the Arakan Army, an ethnic armed group, and the Burma military under the world's longest internet shutdown, imposed by the civilian government in his native state. Since the military coup on 1st February last year, his firsthand reporting also offers a window in  public protests, the civil disobedience movement, and human rights violations. The conversation will discuss how Burma's unarmed civilians are being targeted, and journalists' lives are being put in danger.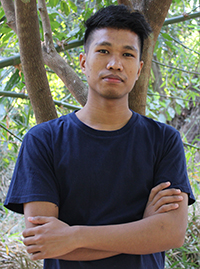 Kyaw Hsan Hlaing >> is an independent journalist and researcher from Burma's Arakan State who writes feature, analysis, and op-ed articles as well as first-person accounts on human rights, humanitarian crises, political transitions, and issues related to civil war and the military coup in Burma. He was a guest contributing writer for a Pulitzer Centre project on intensive armed conflict in the western part of Burma, Arakan (Rakhine) State during 2018-20. He also remotely has undertaken research on human rights violations, the freedom of expression and civil space, and the development of the Arakan Army in Arakan (Rakhine State) in the post-military coup for the Article-19, Fortify Rights, and International Crisis Group.
After the military seized power in the coup in Burma on 1st February 2021, he co-reported at least 13 articles for international media in February alone. In total, he has written or co-written 59 articles for 20 more international media outlets including TIME, Los Angeles Times, Foreign Policy, and Al Jazeera through interviews with more than 300 people from the country's top leaders to the rebel's chief commander, to activists, and residents. Out of them, at least five articles were selected as their newspaper or magazine cover stories.
His op-ed personal account of lives under the world's longest internet shutdown and COVID-19 pandemic for TIME Story was selected as a merit winner of Human Rights Press Awards by Hongkong based Foreign Correspondent Club and Amnesty international in May 2021. Three months after the coup, he was forced to flee neighboring Thailand while being targeted for reporting on the military's human rights violations and political crisis within Burma.
He was the first to graduate from high school in his family in 2013, but finished only two years studying for the undergraduate program in Myanmar Literature at Sittwe University in his native state, and dropped out of the university due to conflict and financial difficulties in 2017. He was selected to study for a year-long intensive diploma in political studies by Naushawng Community School, a non-profit organization in the northern part of Burma, and received a graduate research diploma in peace leadership by Thabyay Education Foundation, a nonprofit organization, in Yangon, Burma. Recently, he arrived with Refugee status in the United States and is now looking for a seat at a university to earn his first degree related to Southeast Asia studies, international studies, and political science.
Monday April 25, 2022
12:00 Noon - via Zoom
REGISTER HERE >>
Co-sponsored by the Poynter Fellowship Program at Yale
---
See CSEAS Current Calendar of Events and Activities
---