Xẩm Street Music
Light of the Blind
Yale University - October 6, 2017 - 7:00 PM
Program and venue >>
Wesleyan University's Allbritton Center for the Study of Public Life Collaborative Project presents with Yale University,"Light of the Blind," a series of workshops, colloquia and Xẩm concert performances. The project aim is to create a deeper awareness and understanding of the healing possibilities of music for those struggling in the aftermath of the Vietnam War, and to offer a forum for conversations between American and Vietnamese-American communities. The Vietnamese practice of Xẩm singing will inform the discussion, as audience and performers collaborate on cross-cultural musical experiences.  (See > Series Schedule and Background information below)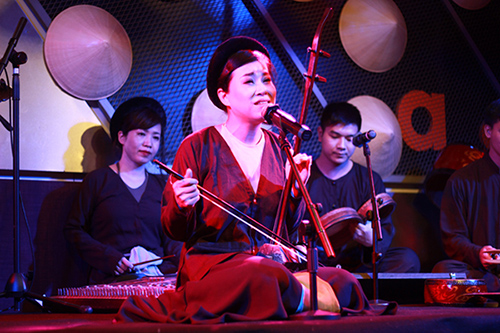 October 6, Luce Hall Auditorium, 34 Hillhouse Avenue, New Haven
7:00 PM - Short film on Madame Hà Thị Cầu, the last surviving artisan of Xẩm
 
7:30 PM - Xẩm Concert Performance with Xẩm Hà Thành Ensemble and Wesleyan University faculty and student performers (Jin Hi Kim, komungo, Jane Alden voice, and student percussionist)
 
8:15 PM Q&A with performers
 
Guest Musicians:
Mai Tuyet Hoa is a folk musician (singer, fiddle), performer of Hát Xẩm, studied nhi from the age of eight. She graduated from the Vietnam National Academy of Music. She is a director of The Center for Research, Preservation and Promotion of the Traditional Music in Hanoi. She is leader of Xẩm Hà Thành Ensemble and a leading singer in Hát Xẩm, revising the tradition of Hà Thị Cầu's singing style since 2006. She works for VOV Television Editorial - Radio Voice of Vietnam.
http://m.tuoitrethudo.vn/xuat-hien-xam-bon-mua-hoa-ha-noi-trong-dem-xam-xuan-2017-n2023260.html
Nguyen Tran Hau is a flute player. He studied from Hanoi College of Art, and Hue Academy of Music specializing in performing traditional instruments. Currently working at the Thang Long Puppet, Hoan Kiem, Hanoi.  Participated in 2 dance festivals, then International in Vietnam won the gold medal 2012: Joined the traditional music festival in Hue 2015: Participated in the traditional music festival in Da Lat won the gold medal 2017: Joined the traditional music festival in Thanh Hoa to win the silver medal. He has performed in some countries such as: China, Hong Kong, New Zealand, Australia, Mexico, Norway, Spain and many other places.
Đào Thị Phương Thanh plays đàn bầu (one string instrument). She graduated from the Vietnam National Academy of Music.  As a member of Vietnam People's Artist, she has performed overseas including Russia, Australia, China, India, Hong Kong, Dubai, Cambodia and Lao.
---
"Light of the Blind" - Background information (Jin Hi Kim and Jane Alden, Allbritton Center for the Study of Public Life Collaborative Project in association with the Music Department, Wesleyan University)
"Many people were blinded during the Vietnam War (1955–1975). Some have attempted to heal their emotional and financial wounds and find hope in the ancient Vietnamese tradition of "Xẩm singing." Xẩm or hát xẩm (xẩm singing) is a practice dating back to the 14th-century Trần dynasty, when it became popular in the Northern region of Vietnam. Itinerant blind musicians (xẩm xoan) traveled from village to village, singing epic, historical, humorous, and erotic songs, accompanying themselves on the đàn bầu (traditional Vietnamese monochord instrument) or đàn nhị (two-string fiddle), or performing with other traveling instrumentalists. Through the subject matter and the style of performance, xẩm artists narrated life's tragedies but also music's ability to offer solace. The tradition declined over the course of the 20th century to the point where the celebrated Hà Thị Cầu (1917-2013) was called the "last surviving artisan of xẩm".
Recent efforts to preserve and propagate xẩm include the introduction of xẩm performance in the Đồng Xuân night market and use of the form by contemporary musicians, who incorporate the old songs into a fascinating new form of chamber ensemble accompanied by indigenous instruments.
Perhaps because the history between America and Vietnam is so dark and painful, the Vietnam War is little discussed today, particularly by the millennial generation. "Light of the The Blind" brings communities together to advance the process of healing. Vietnamese musicians will collaborate with Connecticut artists, including Wesleyan faculty and students in workshops; the mini-conference will allow experts in the field to participate in broader discussion; film screenings will provide informative visual documentation; and performances will contribute to the revitalization of the xẩm singing tradition. The guest musicians will be available to answer questions after each concert.
Preliminary Schedule (subject to change) For information, contact Jin Hi Kim, Wesleyan University (jkim14@wesleyan.edu)
October 4, World Music Hall, Wesleyan University
1:20-3:20 pm Open Rehearsal: Xẩm Hà Thành Ensemble and Wesleyan musicians' collaboration
October 5
Ring Family Hall, Wesleyan University
3:30 PM film screening (1 hr, TBD)
4:30 PM Music Department special colloquium and panel discussion, led by Neely Bruce, Marguerite Nguyen, Yamil Velez, Quang Phu Van, and Erik Harms
Crowell Concert Hall, Wesleyan University
5:30 - 6:30 PM Reception in Downstairs Lobby, Crowell Concert Hall
7:00 PM Concert of Xẩm featuring Vietnamese guest artists (Mai Tuyet Hoa, Nguyen Tan Hau, and Đào Thị Phương Thanh), Wesleyan faculty (Jin Hi Kim, Komungo and Jane Alden, voice), and a student percussionist.
8:00 PM Q&A with performers
October 6 at Yale University (Luce Hall)
October 7 at Harvard University
7:00 PM Performance of Xẩm Hà Thành Ensemble
       October 12 at Cornell University
7:30 PM Performance of Xẩm Hà Thành Ensemble
Organizers:
• Wesleyan Music Department: Visiting Assistant Prof. Jin Hi Kim, Associate Prof. Jane Alden, and John Spencer Camp Prof. Neely Bruce
• Yale University Council on Southeast Asia Studies: Quang Phu Van and Erik Harms
Supported by:
• Allbritton Center for the Study of Public Life Collaborative Project
• Wesleyan Music Department
• Wesleyan College of East Asian Studies
• Wesleyan Center for the Arts
• Yale University Council on Southeast Asia Studies
• Yale InterAsia Initiative
• Institute for Vietnamese Culture & Education (IVCE)